QUANG BINH – Viet Nature Conservation Centre (Viet Nature) has hosted successfully a workshop to share research findings of the project "Southern White-cheeked Gibbon Nomascus Siki Biodiversity Area Assessment" and discuss measures to sustainably conserve Southern White-cheeked Gibbon (Nomascus siki) on 19th September 2019 in Dong Hoi city, Quang Binh province. This project is kindly funded by ARCUS Foundation.
Attended in the workshop were representatives of related government agencies (e.g. provincial Forest Protection Department of Quang Binh and Quang Tri provinces, Quang Binh Department of Natural Resource and Environment) and Forest Management Units in Truong Son Key Biodiversity Area – KBA (Khe Nuoc Trong proposed nature reserve, Bac Huong Hoa nature reserve, Long Dai watershed protection forest etc.) This KBA is a home to the more than forty globally threatened species and four new-to-science species which were discovered in a decade since 1992 i.e., Saola, Annamite Striped Rabit, Annamite Muntjac and Large-antlered Muntjac.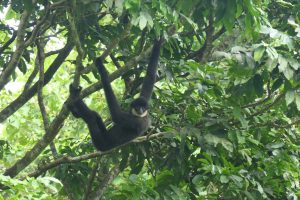 Southern White-cheeked Gibbon / Photo: EPRC
An endemic species to Vietnam and Laos, Southern White-cheeked Gibbon, once thought to be same species as Northern White-cheeked Gibbon Nomascus leucogenys, has been listed as an Endangered species according to IUCN Red List of Threatened Species and might be upgraded to Critically Endangered if sufficient data on their status are available. This species is also protected under Vietnamese law e.g. as specified in the Appendix of Degree 06/2019/ND-CP. This species populations live in a number of landscapes across Vietnam but mostly in Quang Binh province. This species is facing a great loss due to habitat destruction from illegal logging, hunting and disturbances from non-timber forest product collectors and local people.
The results of surveys in 2016, 2018 and 2019 by Viet Nature indicated that the Truong Son KBA holds the largest populations of Southern White-cheeked Gibbon in Vietnam and probably also in the world (Vietnam and Laos), with 281 groups recorded: 53 groups at Bac Huong Hoa, 119 groups at Khe Nuoc Trong, 39 groups at Khe Giua State Forest Enterprise (SFE), 55 groups at Long Dai Protection Forest, and 15 groups at Truong Son SFE. The fourth largest population of Nomascus siki is in Phong Nha-Ke Bang National Park, which is adjacent to the north of the Truong Son KBA, with 50 groups recorded in 2009. The total population of Nomascus siki in its entire distribution range in Vietnam is 347 groups.
The workshop was an opportunity for Viet Nature to present its research results about the Gibbon which were carried out in several years: 2016, 2018 and 2019, to discuss the approaches to conserve sustainably this species in the Truong Son KBA and suggest the next research activities to update the status of this species' populations across Vietnam. The workshop received a number of active, insightful comments and suggestions from participants.
Ultimately, the workshop has reached several agreements, suggestions among attendees:
The research should continue and cover areas where the distribution of the Gibbon is outdated or has been not studied properly. Collaboration with related authorities in Lao DPR to obtain a holistic picture on status of the Gibbon and conservation potentials at regional level is suggested;
Viet Nature should share study methods to survey the Gibbon and provide training of survey methods for the forest management units so that they can carry monitoring of this species on their own in support of Viet Nature's research efforts.
Each Forest Management Unit will include survey results in their sustainable forest management In addition, collaborating with the provincial Forest Protection Department to tight up the wildlife protection in the management areas, prevent illegal hunting and logging activities should be highly prioritized.
Periodical monitoring of Nomascus siki population should be recommended. And it is feasible and probably more cost-effective to use acoustic recorders (e.g. SM4) to monitor the populations of Nomascus siki.
Viet Nature to provide support to Forest Management Units to develop sustainable forest management plan as well as how to mobilize more community participation in forest protection.
Viet Nature to seek more resources to support the livelihood improvement for forest-dependent communities who are living the buffer zone in order to reduce the pressure on the forest and wildlife.
Public awareness raising of the gibbon conservation should be coned.

Mr. Pham Hong Thai, Director of Quang Binh provincial Forest Protection Department speaking at the workshop   

"Viet Nature has conducted a very good research about the Southern White-cheeked Gibbon. Research data was good and trustworthy. Each forest owner should include the species conservation into their management plan" said Mr. Pham Hong Thai, Director of Quang Binh provincial Forest Protection Department. He applauded Viet Nature for being a committed, pro-active partner in wildlife conservation. He also instructed  related government agencies for specific follow ups and urged forest owners to take necessary actions to protect the Southern White-cheeked Gibbon.