Viet Nature Conservation Center (Viet Nature) has successfully organized a study visit to a long-rotation acacia plantation, establishing sustainable forest cooperatives model applying Forest Stewardship Council's (FSC) forest  management certificate which is being implemented by the Thua Thien Hue Forest Owners Sustainable Development Association (TTH-FOSDA) in Thua Thien Hue province.
The delegation included 25 visitors, including representatives of Viet Nature's partners in Quang Binh province such as provincial Forest Protection Department, provincial Rural Development Department, Le Thuy District People's Committee, Dong Chau Watershed Protection Forest Management Board, Le Thuy District Forest Protection station, Kim Thuy Commune People's Committee, representatives of village leaders and typical forest growers in Kim Thuy commune, Le Thuy district and Khe Nuoc Trong project staff.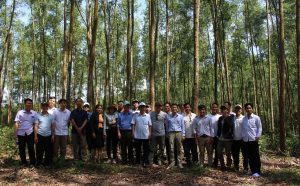 Study visit delegates taking photo together at a FSC certified acacia forest
The study tour lasted for 3 days from February 27th , 2020 to February 29th , 2020 including travelling time. During the first working session, the representatives of TTH-FOSDA introduced the theoretical basis as well as practical experiences and challenges that TTH-FOSDA was facing during establishment process of sustainable forestry cooperatives and implementing FSC in Thua Thien Hue province. On the second day, the delegation spent whole day visiting the field of large timber plantations applying FSC forest management system at the Association's branches of Hong Tien Bach Ton, Cham and Hoa Loc sustainable forestry cooperative. The delegation was shared and interacted directly with the Associations and the Cooperative and understood about specific technical issues in planting such as timing and frequency of trimming, selling products as well as other requirements on the sustainable forestry cooperatives and FSC standards.
"This is a meaningful study visit for me, I personally see big acacia trees which have been maintained for a long rotation. Through working with the Thua Thien Hue FOSDA and exchanging directly with representatives of Sustainable Forestry Cooperatives and their branches, I know what it is like to grow large timber FSC certified forests and the economic value of large timber plantations would bring about. I will advocate this model to local women and people about economic benefit of long rotation, FSC certified acacia plantation compared to short rotation and un-certified acacia one". Said Ms. Ho Thi Bien – Chairwoman of the Women's Union, Kim Thuy Commune.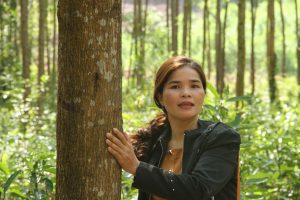 The third day was a review section where the delegate reflected knowledge and experience that were gained in previous days. In addition, this was the opportunity for exchanging information, Q&A session that relating to the FSC and the establishment of the sustainable forestry cooperatives. At this meeting, FOSDA Chairman directly exchanged information and answered the delegation's questions.
Mr. Vo Van Du (Chairman of TTH-FOSDA) directly shared  experience
and answered questions of delegates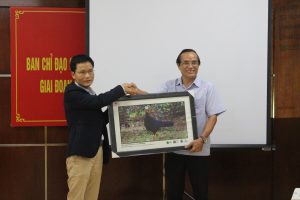 Mr. Dao Quang Minh, Project Director, the Representative of the visiting delegation presented TTH -FOSDA with a picture
At the end of the tour, each member of the delegation has gained useful experience. The delegation greatly appreciated the hospitality and warm welcome of TTH-FOSDA and wish for applying FSC certified large timber plantation as well as well as a sustainable forest cooperative in Kim Thuy commune particularly and Quang Binh province generally. The delegation are looking forward to continuing the partnership as well as support and cooperation of TTH-FOSDA in implementing the similar activities in the future in Quang Binh province.